A Very David Lynch Weekend
I went to a party in the hills above Palo Alto on Saturday. Went with Bodhi.
One of those California houses shaped like a spaceship, all windows and a deck jutting out over a little vineyard.
You could see the Palo Alto particle accelerator in the distance, if you used binoculars. But we didn't have any.
And the bay.
And the gently waving cypresses.
And the perfect smoke from the perfect fire puffing out of the perfect chimney.
It was one of those houses that only the rich can have, maintained by money and invisible elves, and inhabited by a baby boomer who collects wooden indians.
Every two feet there was another one, counting coup.
I sang Kawlijah, but no one got it. Except Bodhi.
Gloria Estefan on the stereo.
It was that kind of party.
Spent most of the night talking to a Russian guy about literature. He would rather have been seducing his ex, who ditched him 20 years ago because he refused to stop living with his mother. He still lives with his mother, but he pined visibly for the ex, who was at the party, and flirted with him outrageously. She's the wild type. Even at 51. Wild, raw-voiced, adventurous, and callous. Poor schmuck.
There was one women there who looked like Charlotte Rampling.
THere were three crispy 50 year old blondes who all looked alike. They all must have been former cheerleaders. They still had that sweet, perky, wholesome vibe. And the makeup. And the pep rally smiles.
There was me, with paperwhite narcissi in my hair, all hippified (someone told me I look like Frida Kahlo, thanks, lady)and out of place, and young enough to be all their daughters, and the host dropped a spoon down my back when he was clearing the plates and got icing all over my ass and that is the longest I have ever spent wearing high heels without sneaking off somewhere to take them off, and the bathroom had stereo music piped in, and I kept looking for hidden cameras, and the food was delicious.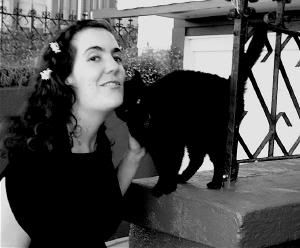 We had so much champagne I lost count.
Caviar.
They were nice people. From a galaxy far far away. But kind. Welcoming.
Still, I kept expecting something bad to happen.
Like a time-loop, or a grisly murder. Or a demon named Bob.
But the only thing that happened was, my one silk cocktail dress now has a chocolate frosting skidmark. I felt poor, and drunk, and amused, and sad, and bored, and mystified and felt that there really are So Many Americas in one place.
And the cigar indians didn't even get dusty.